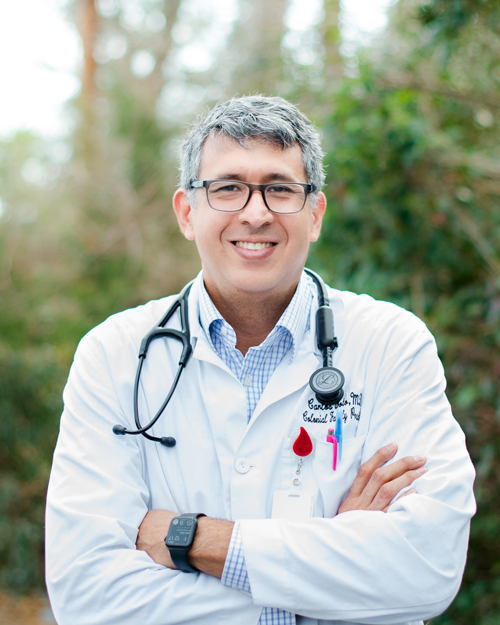 Dr. Carlos Soto is a seasoned Family Medicine and Obesity Medicine specialist, boasting an illustrious medical career that spans over two decades. He began his educational journey at the prestigious Universidad del Valle in Cali, Colombia, where he received his medical degree. Driven by a passion for Family Medicine, he pursued and completed his residency at Prisma Health – University of South Carolina, establishing a solid foundation for his expertise in this field.
Since 2010, Dr. Soto has been an invaluable part of the team at Colonial, contributing his extensive knowledge and superior skillset. He has always had a keen interest in addressing the significant public health issue of obesity, thus, he sought additional board certification in Obesity Medicine. This specialization has enabled him to provide comprehensive medical care to his patients, focusing on the prevention and management of obesity, a condition affecting numerous lives worldwide.
Dr. Soto's excellence in his profession has been recognized multiple times throughout his career. He was awarded the title of 'Best Intern' during his residency, reflecting his dedication and commitment to medical practice from the early stages of his career. This commitment was further highlighted when he was named 'Best Resident in the USA for Sports Medicine' in 2004, attesting to his versatility and proficiency in diverse medical fields. His exemplary service in Family Medicine has earned him consistent recognition in the Columbia Metropolitan Magazine as one of the best family medicine physicians in the region.
Away from his busy professional life, Dr. Soto enjoys a variety of hobbies that reflect his dynamic personality. He is an avid traveler and sports enthusiast. He regularly plays Tennis and Basketball, showcasing his competitive spirit and fostering his overall wellbeing. Additionally, he is a passionate Soccer spectator, often spending his leisure time enjoying matches.
Dr. Soto's remarkable medical career is a testament to his relentless pursuit of excellence in healthcare. His patients at Colonial, and the broader medical community, continue to benefit greatly from his expertise and commitment.